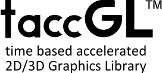 HTML5+CSS 3D-Transition and Animation Library taccGL
for adding 3D graphics to your web pages
animate
3D Objects from scene files
Deformed, sliced, mapped elements
Canvas Drawings
with
Lighting and Shading
Hidden Surfaces
Automatic Shadows
for adding 3D graphics to your web pages
Plug-In free, cross html5 browser, open source.
Easy use with HTML5, CSS, and javaScript,
based on HTML 5 Canvas and WebGL™
Features
,
Tutorial

Create a 3D model using a (commercial or open source) 3D modelling program and use taccgl™ and 2 lines of javaScript to show the model on your web page. more

javaScript useful for pop-up/alert/dialog boxes, for tool-tips and status infos, for drop-down and pop-up menues etc.
more
We just completed the german translation of this homepage
more (in German)
.
WebGL™ is a trademark of the Khronos Group Inc.
Examples
Mouseovers
based on WebGL™
Enlarging
3D Objects
on this page
External 3D Models:

Temple
Under good conditions the library directly uses hardware graphic acceleration and its performance critical parts run directly on the computers graphic unit. This provides an extreme performance gain compared to DOM and script based animations and allows you to run smooth animations with thousands of elements.
If no hardware acceleration is present (or if it is not usable because of the browser or the graphics driver) the library uses the HTML 5 - 2D canvas which provides quite fast animations with restricted features on fast computers as well.
For slow graphic accelerators and/or slow processors that can not handle the full screen resolution smoothly, the library plays the animations only on a portion of the screen or becomes completely inactive to not interfere normal operations on the page.
On older browsers that do not support HTML 5 canvas and no animations show up.
The library is written in JavaScript and GLSL (a C like vector programming language). If supported, the GLSL parts are downloaded into the graphics card and executed there; possibly in parallel on several processors, which gives a dramatic performance gain.
taccgl™ is an HTML 5 library making special use of the new canvas feature. HTML 5 means that the library explicitly runs only on newer browsers, e.g. IE 9.0 and up, current versions of most other browsers. For older browsers it becomes inactive, the idea is that users can still view pages that include the library, however without the animations.
taccgl™ can display CSS formatted HTML elements with the new HTML5 3D canvas which makes the benefits of canvas 3D available for HTML elements as well:
For example HTML elements can be animated using GPU acceleration, they can be moved, accelerated, deformed, bent, lighted etc. and they can enjoy the performance of the GPU which normally has enough power to separately animate thousands of copies of (parts or fragments of) HTML elements.
Also HTML elements can be fully integrated into a 3D scene, e.g. they can rotate in 3D, they can be displayed before or behind other HTML elements even partially, and they can cast shadows or shadows can be casted on them. In addition HTML elements can be mapped on 3D objects such as cubes or spheres.
taccgl™ allows you to create WebGL™ animations with very few lines of javascript, by
animating CSS formatted HTML elements
mapping of HTML elements on 3D objects
displaying 3D objects created with a modelling program (e.g. Blender) and aligning them with HTML and CSS
The new HTML 5 canvas feature in its 3D version brings fantastic new graphic and animation features, such as
direct access to the clients GPU graphic acceleration unit,
performing of animations with thousands of triangles,
separately controlling every pixel and to calculate each pixel's color once per frame,
loading shader programs into and executing them in the GPU thereby bypassing javaScript and DOM performance bottelnecks,
and also special 3D features such as
3D depth buffering for hidden surface handling,
3D lighting for simulating light sources and reflection on 3D objects, and
automatic 3D shadow calculation.
In pure HTML 5 canvas 3D/WebGL™ the content to be displayed must be individually programmed. The taccgl™ library greatly simplifies this process. by allowing the user to use CSS formatted HTML elements togehter with 3D Models created with a modelling program.
Hover or click on the various green links on this page to see pop-ups containing additional explanations.
The appearing pop-up window is displayed using taccgl™ and WebGL™, mostly (performance of the GPU permitting) to correctly display its shadows. Note that the shadow can be quite complex, since the underlying page is not flat but seen as a 3D surface.
In addition opening and closing animations are played. The opening animation is choosen randomly from various opening animations that are e.g. morphing the element from a circle or a wavs from to its final rectangular form. The closing animation makes the element explode into many parts.
Hover or click on the various 3D objects and screenshots to see animations enlarging and rotating the objects.